September 20, 2016 AHR Expo-Mexico opened in Monterrey.As global No.1 B2B platform ,Coowor take participate in this exhibition and take report on site.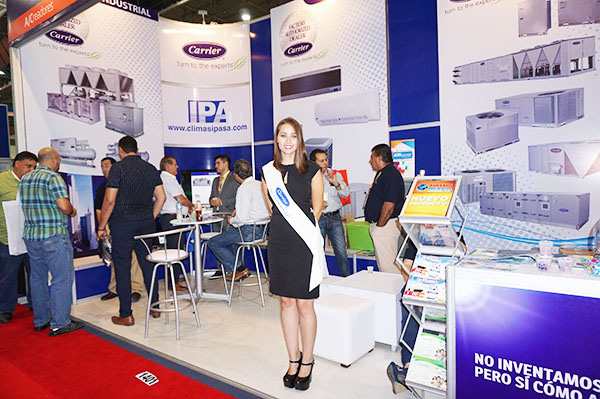 Carrier is the world's largest supplier of HVAC and refrigeration equipment and a global leader in providing energy management and sustainable building services. Headquartered in Farmington, Connecticut, USA, Carrier has production and sales covering more than 180 countries including China.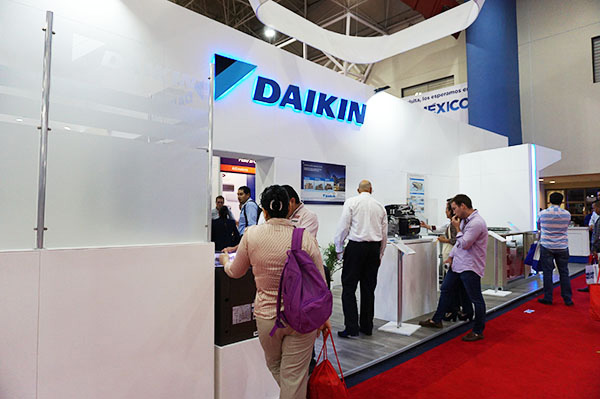 DAIKIN was founded in October 25, 1924, the company has more than 80 years history. Despite the bubble economy during the oil crisis, DAIKIN is still active in today's world stage and continues to grow and develop with world-class technology and excellent business philosophy. From Japan to Europe, America and Asia, DAIKIN step by step to become first-class global enterprises, and continue to work to develop more efficient, more energy efficient, more environmentally friendly new technologies.
TCL Air Conditioning is one of the four pillar industries of TCL Group Co., Ltd. The division is established and now has the ability to produce all kinds of household air conditioners, commercial air conditioners, central air conditioners, mobile air conditioners, dehumidifiers and air-condition compressors to form a comprehensive professional air-conditioning industry group, with research and development, manufacturing, quality control, marketing and after-sales service to the professional team.
ZIEHL-ABEGG is a world leader in fan and electric motors, and its products are suitable for a wide range of applications including air conditioning, cooling, ventilation and heating. In addition, ZIEHL-ABEGG hundred also has a variety of speed and fan and motor speed controller. Our manufacturing level enables us to provide different solutions for a wide range of equipment, especially HVAC equipment.
The annual production capacity of the AUX Group reaches 7 million air conditioners, 25 million watthour meters, 3.2 million kVA transformers, 5 million cell phones and 2 million small household appliances (OEMs). Among them, the energy meter production capacity ranks first in the world, and for eight consecutive years of production capacity in the world, the market share of over 30%; Oaks air conditioner is China's top four air-conditioning industry, sales in 2007 exceeded 5.2 million units.
KDK is a brand name used by Panasonic subsidiary environmental systems LTD., which sells ventilation and air conditioning equipment. KDK main products are electric fans, as well as sales of lampblack, wind brake, dryer, ceiling fan, dehumidifier and other air flow equipment. In Big5,KDK exhibit is fan.
Zhuhai Gree Electric Co., Ltd. is a state-controlled household appliances business with research and development, production, sales and service together. Its products include home air conditioners, central air conditioning, air to water heaters. Gree air-conditioning has been the technological innovation as a driving force for enterprise development, strictly control the product quality, and "good air conditioning, Gree made" and "buy quality, selected Gree" known for the domestic air-conditioning market, consumers enjoy a high reputation.
LG Group was established in 1947 in Seoul, Korea, located in Seoul. It is an international enterprise group that leads the development of the world's industries. LG Group currently has more than 300 overseas offices in 171 countries and regions. Business areas cover chemical energy, electrical and electronic, communications and services and other fields.
Carel entered the field of air conditioning, refrigeration and humidity control since 1973; In the early 1980s, Carel was the first company in Europe to design and manufacture microprocessor controllers for precision air conditioners.
Its extensive experience in the air conditioning industry enabled Carel to begin designing and producing low-cost microprocessor-based electronic controllers 20 years ago. (Carel was the first Italian company to have such a strength). These controllers are more reliable, feature more flexible and cost-effective than traditional mechanical controllers for showcases and freezers. Now Carel can provide a wide range of products to manufacturers, installers and designers in the HVAC / R industry.
Hisense Group adheres to the intelligent idea of "enjoying what you want" and produce the industry-leading ULED, laser TV, etc. Its products are sold to more than 130 countries and regions in the fields of multimedia, home appliances, communications, intelligent transportation, etc. Hisense's exhibit is air-conditioner, multi-connected and so on.