On January 14, 2018, The HVACR expo Saudi will be open .The 35th Station of Coowor Global Promotion Tour is also going to sail. Around 79 enterprises will attend this show, booth number of Coowor is F75 , carrying a total of 2000 Purchasing Guide. Welcome to visit our booth !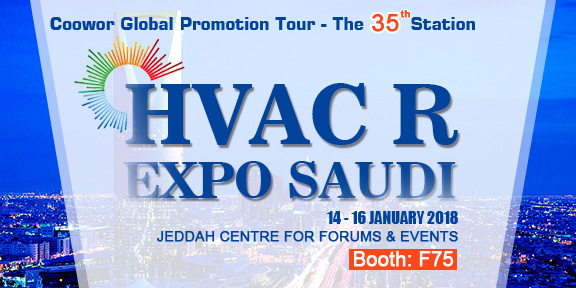 Saudi Arabia as the world's third largest HVAC system demand market is next only to the US and India. The HVAC market increased to US 1.4 million in 2015. By 2018, the Saudi HVAC market will remain 10% years growth rate. In Jeddah, the air conditioning temperature control equipment is the most important market system for Saudi Arabia, especially by the government. In order to better develop this market, the government simplifies its products related to its policies, attracting a large number of foreign investment and procurement.
According to the latest report of Global Market Insights, with the growth of the infrastructure investment and the demand for reliable and cheap air conditioning systems in the Gulf countries, the development of the regional cooling supply market in the Middle East has been promoted. It is expected to reach $12 billion by 2024.
Exhibits Profile
Air conditioning, fan, air purifiers, humidifiers; ventilation; building automation, control and management of facilities and equipment products; pipeline system; energy saving / alternative energy equipment; fluid machinery; heat pump, heat exchanger and other equipment; insulation products; measuring tools; pipeline products and technologies; generators; heaters & recycling heating system; refrigeration system and solar refrigeration equipment; valve, pump, pipe device and assembly etc.
Exhibition Address: JEDDAH CENTRE FOR FORUMS & EVENTS
Exhibition time: January 14-16, 2018. 16: 00-22: 00
Booth number of coowor: F75