Last week, clean cooling accelerator shecco successfully conducted the world's first global, 24-hour online trade show for natural refrigerant technologies.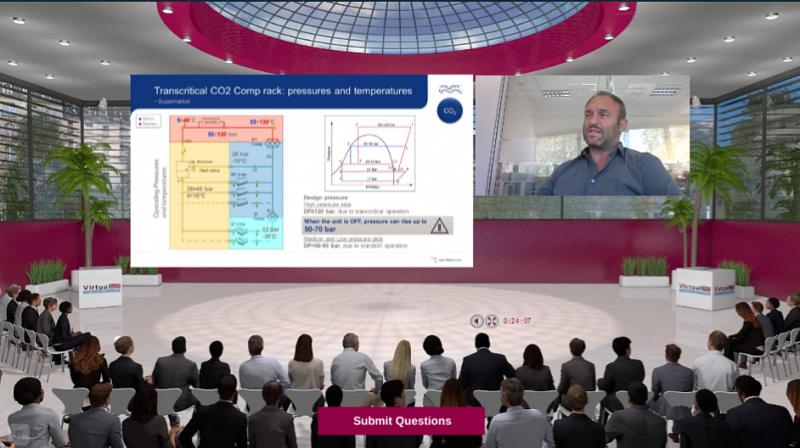 Called the Virtual Trade Show (VTS), the event enabled thousands of cooling industry professionals during the COVID-19 pandemic to connect live with 77 suppliers and promoters of natural refrigerant products and view live webinars in an unprecedented global online format.

Natural refrigerants – carbon dioxide, hydrocarbons, ammonia, water and air – are being used in refrigeration, air conditioning and heat pump systems around the world as substitutes for fluorinated refrigerants that harm the environment.

"We made history in the cooling industry with an event that for the first time connected stakeholders around the world over a 24-hour period to learn about the latest natural refrigerant systems," said Marc Chasserot, CEO of shecco.

Free to attend, the VTS ran continuously around the world from 10 am CEST on September 1 to 10 am CEST on September 2. By the close of the show, 4,232 people from 1,500+ organizations had registered, and 2,359 people had joined live. All registrants will have access to exhibitor booth information and webinars until September 30. Others can still register for access to the show material at https://bit.ly/3jDdtuI.

shecco plans to hold a follow-up event, VTS 2.0, in February, 2021, and is evaluating changes and new features based on learnings and feedback from the initial event.

VTS attendees came from across the global cooling marketplace, including end users, manufacturers, contractors, associations, government officials, consultants, academics, students, media, and NGOs.

The event featured easy-to-navigate exhibitor booths, show information and networking areas. Participants were able to communicate via video and text chat. To facilitate networking, shecco hosted technical forum and informal lounge areas.
The event also offered five live webinars with live audience Q&A, as well as nine pre-recorded webinars, presenting knowledge and trends for environmentally friendly cooling. In one webinar, German manufacturer GEA pointed out that natural refrigerants can serve as key alternatives to fgases in every cooling application.

Favorable reaction
shecco has received favorable reaction to the event from numerous exhibitors and attendees. "This is a very complicated time in the world, and for Vahterus," said Mauri Kontu, CEO of Vahterus Oy, a Finnish manufacturer that exhibited at VTS. "At the moment, our sales team has no possibility to meet our customers. [At VTS], we have found a new method to contact customers."
"We had some interesting discussions with customers about new technologies, and also about what our competition is working on, and it's also very interesting for us to know what they are doing," said Tom Eelen, Head of Sales, and Sales Support at VTS exhibitor GEA Refrigeration. "We got a lot of questions about heat pumps."
"Overall, I think it was a good idea to do this," said Patrick Sternm, Product & Market Manager at ebm-papst Group, which exhibited at the show. "And I think we will see this more often in the near future. And so, it's really a positive thing from my point of view."